About the Artistes: Suman and Sargam Shah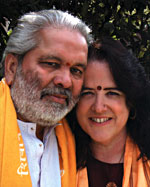 Husband and wife team Suman and Sargam Shah are kirtankars- singers of the Divine Names and Songs of God in the Hindu tradition- who are based in the San Francisco Bay Area. They have been practicing the devotional and raga music of India as a sadhana or spiritual discipline for over twenty years. Originally influenced by the Harikatha style of Sant Keshavadas, Suman and Sargam have studied India's rich music traditions with several gurus, including the late Pandit Pran Nath, Arshad Syed and Professor Mohini Mohan Patnaik.
Suman and Sargam's music, called "Satya Nada Kirtan" ("devotional offering of true sound") is a unique blend of traditional folk melodies and classical Hindustani ragas, with a light touch of east-west fusion. Both Suman and Sargam are university professors by profession, however their first love is music. Suman offers vocals as well as plays tabla, santoor and flute. Sargam plays harmonium and is primarily a vocalist.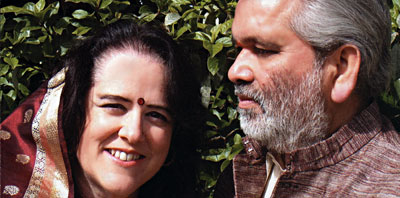 Suman and Sargam's spiritual roots are planted deep in the Ramakrishna tradition. They have maintained a lifelong relationship with their guru, Swami Swahanandaji of the Ramakrishna Math and Mission, who is currently the head of the Vedanta Society of Southern California. Suman and Sargam have often spent time doing sadhana in Dakshineshwar (Kolkata) at the Kali Temple where Sri Ramakrishna performed his lila, and at Belur Math. They have also practiced and performed at holy places throughout India, including Rishikesh, Bhubaneshwar, Bangalore, Madihali and Mumbai.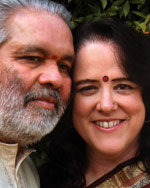 Suman and Sargam have also maintained a long practice of the tradition of Sri Vidya, the worship of the Divine Mother of the Universe, the Mula Prakriti Raja Rajeshwari Tripura Sundari, also known as Ma Lalitha. They maintain Sri Vidya Nada Mandir, a temple for Lalitha Ma, in El Cerrito California, where she is honored daily with music and puja.
Feel free to contact the Musicians here.