The Mission
Suman and Sargam's mission is two-fold- first, to spread the practice of music as a sadhana and to share the joy of kirtan and bhajan with others, and second, to support children's services in India through their musical endeavors. Profit from their CDs, publications, performances and music classes are donated to several relief projects for children in need in India.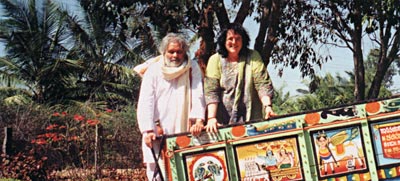 Arranging a Program
Suman and Sargam are available for programs in yoga centers, temples, private homes and cultural venues, and have performed extensively in the U.S. and in India. Because Suman plays tabla and Sargam plays harmonium for their performances, they need no other accompaniment, although accompanying musicians can be accommodated when appropriate. Their programs, one half hour to three hours in length, are always by donation only- there is no fixed fee for their services. Program organizers may charge for Suman and Sargam's programs if they wish, and offer whatever they can as a donation. Because their donations go to charitable causes, Suman and Sargam hope organizers will be generous with their gifts. They also request travel funds for programs outside the Bay Area.
Click here to contact them to arrange a program.
Available Programs
Suman and Sargam offer a variety of programs of devotional music. All programs include both classical style bhajans as well as call-and-response kirtan. Programs include:
Traditional bhajan and kirtan programs, one half to two hours in length, to celebrate any auspicious event or other Hindu samskara, or to accompany any puja. Bhajans and kirtans for all major Hindu deities are available, and organizers may request a focus of their choice.
Bhajan and kirtan with satsang- stories from Hindu scriptures and literature, one to one-and-a half hours in length.
Hanuman Chalisa Satsang- stories of Hanuman with bhajan, kirtan, and offerings of Hanuman Chalisa in a variety of ragas, with samputs, about one-and-a-half hours in length
Bhajan and Kirtan Workshops- group instruction in leading kirtan, elements of Indian rhythm, harmonium and more- two hours or more in length
Lecture Demonstrations- in-depth look at the music of North India as both art form and spiritual practice, with bhajans, kirtan, and audience participation, one to two hours in length
Instruction
Suman and Sargam also offer instruction in devotional vocal music of North India, harmonium and tabla in El Cerrito, California.
Click here to contact Suman and Sargam about their services.