Purnima

Lambodhara
Hare Ramakrishna
Man Ek Bar Hari Boi
Govinda Bolo Hari
Raghuvara
Niko Lage Brindavan
Mangala Murati
Sri Ram Jaya Ram
Anjaneya
Hanuman Chalisa

Amavasya

Ya Devi
Gajanana
Guru Maharani
Jaya Jaya Shiva Shambho
Sundara Vadane
Niranjana
Sherawali
Om Manah Shivay
Akhilandeshwari
Madhuram
Arati

Sadashiva

Echoes of the Dance: Santoor
Shivaya Namah Om
Gayiye Ganapati
Shankara, Jivana Varada
Amba Sahita Samba Sadashiva
Niranjana
Maha Mrityunjaya Mantra
Midnight Dance: Om Namah Shivay
Shankara Sri Girinatha Prabhuji
Jai Shiva Shambho Sharanam

Ekadasi

Maha Mantra
Ganaraja
Guru Charanana Ki
Govinda Gopala
Murali Krishna
Vitthala Vitthala
Govinda Bolo Gopala Bolo
Radha Lala
Eka Vitthala
Hari Govinda Narayana
Giridhari
Hari Narayana
CD's now available!
Cost: $12.00 each
or $35.00 for the "Purnima, Amavasya, Ekadasi" set
plus $2.00 per CD shipping and handling.
Contact the Musicians to purchase CDs or the songbook.
Now available: The "Satya Nada Kirtan Songbook"!
This large hard cover volume contains over three hundred and fifty bhajans and kirtans in English transliteration, as well as a collection of Sanskrit chants and puja mantras. It is the perfect resource for learning new songs. We use the songbook at Friday night "Curry Kirtan" as well.
Cost: $35.00 plus $5.00 shipping and handling.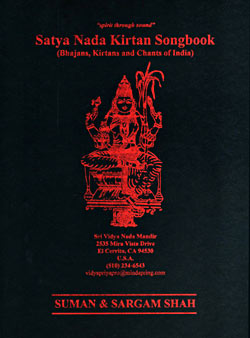 Contact the Musicians to purchase CDs or the songbook.